Company Prof ile and History
The systems department started in 1989 and certified by "ISMS" in May 2009.
CANALS is capable of exceeding the customer's expectations.
Company Name
Company Name: TORA Co., Ltd.
Founded
May 1970
Established
April 1977
Capitalization
10,000,000 Yen
President
Naojiro Yasui
Number of Employee

33

Main Business Activities

1.Advertisements, printed materials, web site producing
2.Editing, design, illustration, copy writing
3.Development, operation, and maintenance of the Cloud service 'Canals'and web hosting

Address

Tokyo Office

3F PARK WOOD office iwamotocho, 3-8-11 iwamotocho, chiyodaku, Tokyo 101-0032, Japan
TEL:03-3862-3080 FAX:03-3862-2089

Osaka Head Office

2F Osaka-Nissei Bldg., 1-26 Kitahama-higashi, Chuo-ku, Osaka City, Osaka 540-0031, Japan
TEL:06-6966-5665 FAX:06-6966-5660

Tamba TORA Workshop

Ichijima-cho, Tamba City, Hyogo Prefecture

Main Customers
(japanese alphabetic order)

Temporary Staffing Services

AGS Pro Service Co.,Ltd.
ABC Style Co.,Ltd.
Osaka Gas Excellent Agency
KANSAI BUSINESS INFORMATION INC.
Keikyu-Business Co.,Ltd.
KDDI Evolva Inc.
Q&Q Business Partners Co.,Ltd.
SHINNIHON Co.Ltd.
TRY @resouce Inc.
trans cosmos field marketing
Nissay Business Service Co.,Ltd.
The Midori Kai Co.,Ltd.
Panasonic Excel Staff Co.,Ltd.
Future Communications Inc.

Temporary Staffing Services (Medical)

TSKouken Inc.Medical Division
BiOS Inc.

Temporary Staffing Services (Nursing)

GA Life Care.

Temporary Staffing Services (Pharmacist)

Apro.com
Pharmate Corporation.
APO PLUS STATION Co.,Ltd.

Temporary Staffing Services (Designer)

Aquent LLC

Staffing service (IT Engineer)

Global Technology Design INC.

Temporary Staffing Services (English teacher)

CTS Co.,Ltd

Model agency

Satoru Japan Inc.
VITHMIC GROUP Co.,LTD.
BARK IN STYLE LTD.

Health support

NIHON KENKO CLUB
SEIKOUKAICo.,Ltd.

Baby sitter・Child care management・Home maker service

ALPHA Corporation INC.
Childcare Support Inc.
teno Corporation.
HoneyClover Inc.
Le Ange, Co.Ltd.

Home security, watch service

OSAKA GAS Security Service Co.Ltd

Website management, etc

Award-Style.Since2004.
Club Off Alliance.
OSAKA GAS CO.,LTD.
OSAKA GS BUSINESS CREATE CO.,LTD.
SAKAI CITY CULTURAL FOUNDATION
STUDIO ALTA CO.,LTD
Zephyr Corporation.
TERASAKI ELECTRIC CO.,LTD
Teratec Ltd.
DENWA HOUSOUOKYOKU Co.,LTD
Tokyo Sport Benefits Corporation.
NISSEI Co.,Ltd.
NONAKA BOEKI Co.,Ltd.
The Japan Institute of Architects
Premium Offer Co.,Ltd.

Catalog making・Image database management

KMEW Co., Ltd
NAIKI Co., LTD

Other production

Astellas Pharma Inc
Osaka Prefecture
City of Osaka
Sakai City
Association of Fashion Coordination Trainers
Kumon Institute of Education Co., Ltd
Panasonic Corporation
HEISHIN Ltd.

History
May 1970 Opened a design office 'TORA Co.Ltd' in Higashiosaka city
August 1972 Relocated the office to Abeno ward, Osaka city
April 1977 Establishment of a company (Capital fund 1 million yen)
August 1979 Relocated the office to Nishi ward, Osaka city
April 1982 Increased capital to 6 million yen
November 1983 Increased capital to 10 million yen
June 1984 Relocated the office to Tenjinbashi, Kita ward, Osaka city
November 1988 Relocated the office to Tenjinbashi, Kita ward, Osaka city
September 1989 Set up a PC program development department
September 1993 Relocated the office to Fushimicho, Chuo ward, Osaka city
September 2000 Relocated the office to Tsuriganecho, Chuo ward, Osaka city
September 2002 Started the 'Canals' service
March 2004 Opened a Tokyo office at Ginza, Chuo ward, Tokyo city
December 2005 Relocated the Tokyo office to Kojimachi, Chiyoda ward, Tokyo city
May 2009 Obtained ISMS Certification
April 2011 Relocated the Tokyo office to Jingumae, Shibuya ward, Tokyo city
July 2012 Relocated the Tokyo office to 2 chome, Minami Aoyama, Tokyo city
August 2013 Relocated the Osaka office to Kitahama Higashi, Chuo ward, Osaka city
September 2017 Relocated the Tokyo office to Nishishinbashi, Tokyo city
December 2020 Relocated the Tokyo office to iwamotocho, Tokyo city
Introduction to the offices of CANALS
In addition to the systems department managing CANALS,
the design department working on graphics and web production is also on the same floor.
Introduction to our employees who work day and night for the development of CANALS.
Our employees are passionate about systems.
Nature Workshop [TORA Cottage]
"TORA Cottage" is located in the green natural environment of Ichijima, Tamba, Hyogo Prefecture. This place is surrounded by mountains and paddy fields, and the office was opened in November, 1993. The site area of the workshop is approximately 58,641 sq. ft, and the building area is approximately 3,554 sq. ft. The main objective of this "TORA Cottage" is to expand and enrich human relations, enjoy a fulfilling leisure life and creative activities, while maintaining touch with nature.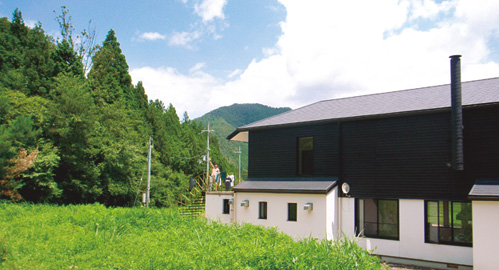 Our Staff
Here you can find the team that is developing CANALS.
Osaka Office

We are a system and design company based in Osaka and Tokyo.
In addition to our track record in implementation of cloud computing services (CANALS) and designing websites,
we also work in the planning and production of various advertisements and graphic designs.
There are many youngsters working in our office and they are filled with motivation and bright atmosphere.
Tokyo Office

We have young employees working diligently every day in our Tokyo office too.
The major challenge as an engineer is to get the requirements and evaluations directly from the customers
in the same way as in our Osaka office.